CFA Institute Research Challenge 21/22 SIM Internal Selection
This year's edition of the CFA Institute Research Challenge SIM Internal Selection is here! Learn more about equity analysis whilst also improving on your research report writing as well as presentation skills! Also, receive mentoring while you network with professionals as you delve further into the industries. The timeline for the competition is as follows:
SIM Internal Selection Round
Registration closing date (SIM) – 19 Nov 2021, 2359
Submission of report & the selection of finalist teams (SIM) – 17 Dec 2021, 2359
Announcement of teams (SIM) – 27 Dec 2021
Final selection of SIM-CFA representative team (presentation round) – 3 Jan 2022
CFA Singapore National Finals
Preparation for CFA Singapore National Finals – Jan to Feb 2022
Submission of written report (CFA) – 9 Feb 2022
Submission of presentation slides (CFA) -17 Feb 2022
Singapore National Final Challenge (CFA) – 19 Feb 2022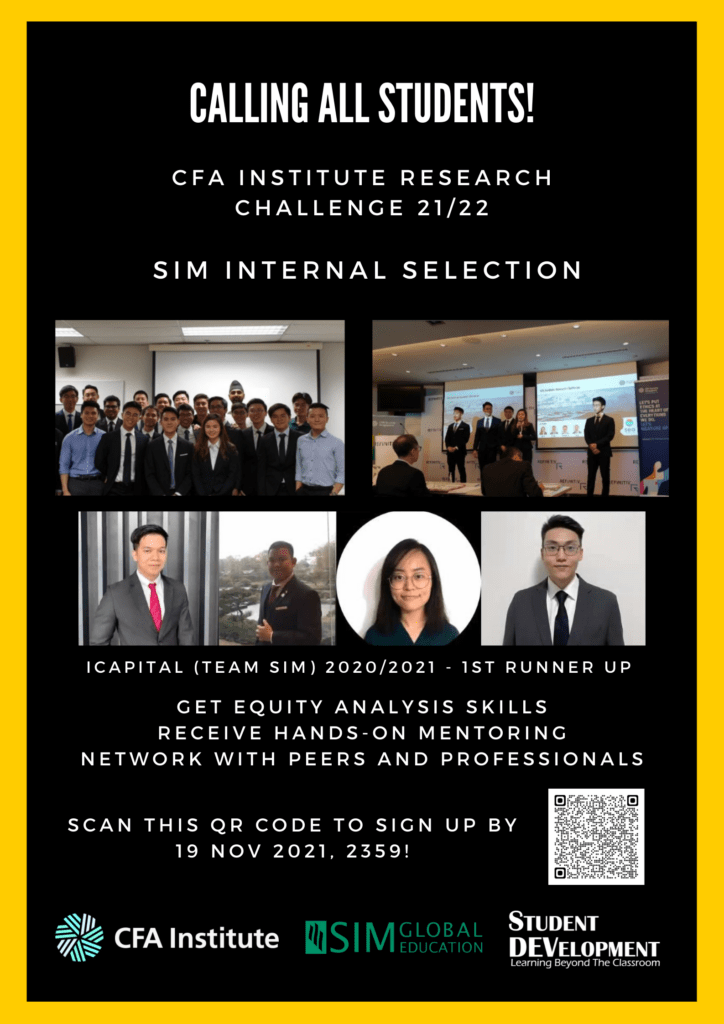 Please sign up for the competition here.
You may find out more information about the competition at the CFAIRC website.