MYSIM Members Recruitment
Calling all Burmese Students! If you are willing to make more Burmese friends, MYSIM Members Recruitment is definitely for you!
Benefits of being a MYSIM member:
Be a part of MYSIM telegram group for 2022-2023
Meet new Burmese friends at SIM
Receive first-hand information about events
Sign up through this link: https://tinyurl.com/MYSIM-member
For any enquiries, kindly email mysim@mymail.sim.edu.sg
Don't forget to follow our Instagram @mysim_sim and like our Facebook page to be informed about our upcoming activities! Do spread the word to let your friends know about MYSIM!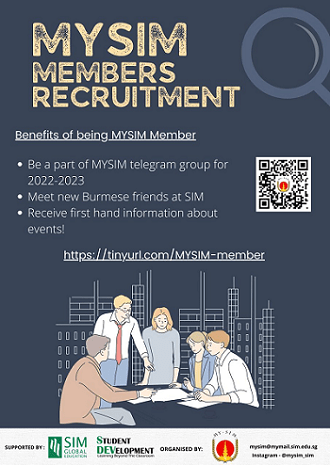 Venue
N.A. (Digital Registration Only)